Views: 500 40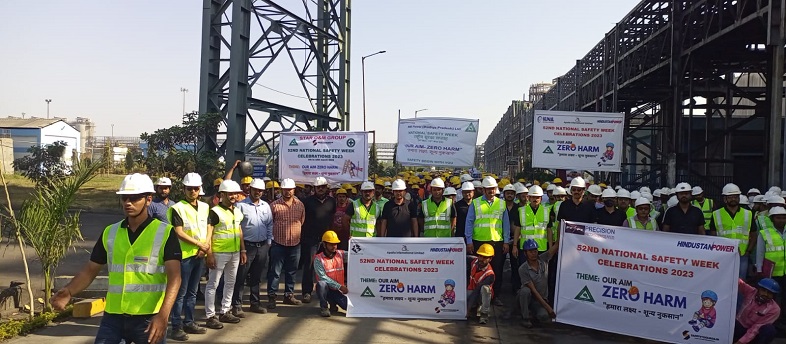 21 March, 2023: MB Power, a Hindustan Powerprojects Group entity, observed National Safety Week with various competitions and training workshops to enhance employee commitment to safety and precaution. The celebration commenced on 4th March with a rally and the unfurling of the safety flag in the main plant area by Mr BK Mishra, Plant Head. Following this, all the employees, took the oath of safety together. Mr Mishra also inaugurated the newly created Environment Lab in the presence of O & M Head Mr Ajit Chopde, HR-Admin Head Mr RK Khatana, Safety-EHS Head Dr Bhola Prasad Kushwaha and others members of the staff.
The week-long celebration witnessed poster making, slogan writing, speech recitals, and poetry competitions, which had participation from workers, company staff members, township ladies and children. Training on first aid and handling near misses was also conducted. Awards were handed out to the best safety-conscious Manager, Engineer, worker, officer and department, along with those for the winners of the mentioned competitions. The Mill Maintenance team was given the first award in the housekeeping category. The second winner in the category was the BOP (Balance of Plant) department. The Turbine Maintenance team won an accolade for the Best safety conscious department.
Lauding the team's commitment to safety, Mr Ajit Chopde proclaimed that human life is above all and, therefore, safety should never be compromised.
'Everything that we do, including our professional engagements, is to enhance our quality of life, and nothing is greater that having a dignified, disease-free life. Therefore, one must take utmost precautions to deter accidents at work and show absolute adherence to safety procedures. All the workshops held during this week emphasized this," said BK Mishra, Plant Head and COO of MB Power (Madhya Pradesh) Limited, a thermal venture of Hindustan Powerprojects group.
In addition, Dr Bhola Kushwaha detailed the standard practices adopted to ensure accident-free power generation scenarios inside the plant. The safety department staged a show to raise awareness of safety procedures. Mr RK Khatana, Head HR-Admin, said that the plant's safety scenario is ideal for a healthy, accident-free work culture. He also thanked the workers and officials for participating in the safety week program.