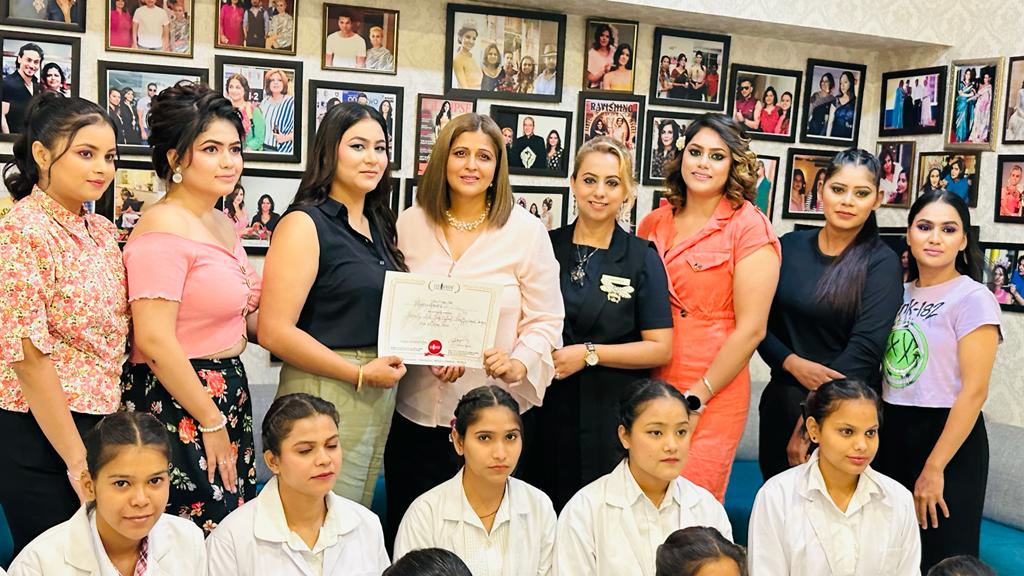 In addition, Cleopatra Academy students demonstrated the latest summer nail art and makeup trends that combined classic summer looks with a unique flair.
"Organic Summer Beauty Themed Event", The workshop and event at Cleopatra presented an opportunity to learn about natural and ayurvedic techniques for skin and hair care, and also explore the latest trends in beauty and nail care. On this occasion, women from Tricity received customized advice from experienced professionals on topics such as skincare, haircare, makeup, and nail care during summer. The occasion also saw beauty and makeover experts Richa Agarwal, and Harveen Kathuria sharing tips on "Summer Makeup and Nail Art Trends 2023".
It was a special event in which beauty experts Richa Agarwal and Harveen Kathuria promoted the use of natural and organic beauty regimes. They provided live demonstrations on natural skin care along with emphasizing the benefits of avoiding the use of chemical-rich beauty products and services. They both encouraged the youth and women to opt for more natural alternatives instead, which can be more beneficial for the long-term health of their skin. They both outlined the various methods for achieving this, ranging from homemade remedies to sourcing organic products.
Richa Agarwal said, " Today's youth are so eager to be seen on Instagram and social media, that to look extra beautiful or achieve beauty results in a short period, they are willing to try anything." And as a result of this many of them suffer from different kinds of skin allergies and discoloration due to the wrong application of makeup and beauty products. This can have serious long-term implications, as not only can it cause permanent discoloration and damage to the skin, but can also lead to further health complications. We often come across a lot of young people who are suffering from the side effects of chemicals that they are using on their hair and skin. As a result, we are shifting them towards completely natural and organic beauty regimens and products, as well as in this workshop we are educating the youth on how to choose the right products, how to know the ingredients, how to use them correctly, how to use them according to the needs of the skin and hair.
On this occasion Students of Cleopatra Academy also used vibrant and striking colors to bring the look together and make a statement, They offered a range of sustainable and eco-friendly mileage of looks that was suitable for transitioning to summer beauty.
The looks featured sleek, cool, and summer-ready fresh styles that were inspired by the various color-friendly looks seen at the Cannes Film Festival, featuring bold, vibrant, and bright looks that were alluring and perfect for the summer season. Moreover, tips on how to apply sunscreen, and what toner to use to ensure maximum protection were discussed. The women were further encouraged to try these natural fruit-based homemade recipes for healthier and more beautiful skin.