Views: 500 33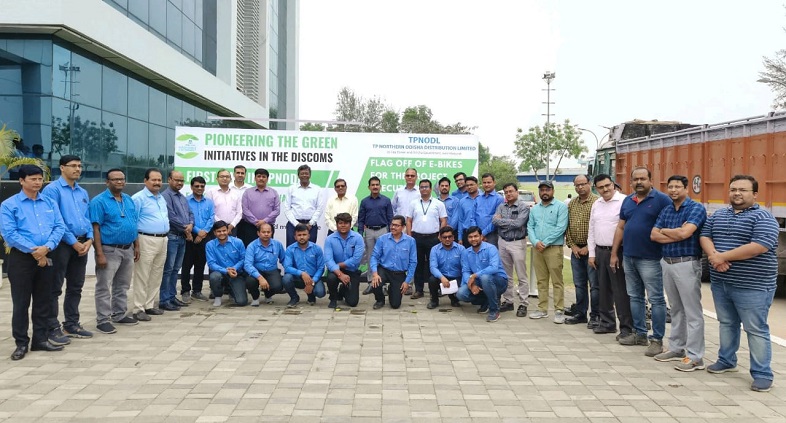 New Delhi, March 2023: TP Northern Odisha Distribution Limited (TPNODL) – (A Tata Power and Odisha Government Joint Venture) have recently flagged off their "Pioneering the Green Initiative" programme. This is a first in TPNODL's history where they are going to utilize Electric Vehicles for project executions. The flag off ceremony was held in the auspicious presence of the CEO of TPNODL.
PURE EV has provided their top of the line premium electric motorcycle, eTryst 350 for powering this initiative. eTryst 350 was launched in August 2022 and is powered by AIS 156 certified 3.5 kWh battery pack that provides a range of 130 km in a single full charge with top speed of 85 KMPH.
Highlighting on this milestone of eTryst 350, Mr. Rohit Vadera, Co-Founder and Chief Executive Officer, PURE EV, said, "We are very happy that TPNODL has selected us as a partner for their green initiative campaign. I would also like to thank our Odisha dealer – KK Trading, Bhubaneswar as they played an instrumental role in getting this order for us.

This is a momentous occasion for the company as this instills a lot of faith and confidence in our vision for the future. We have limited ourselves to the B2C segment and now with this initiative, our foray into the B2B space has also truly begun. Our recently launched commute electric motorcycle ecoDryft has also garnered 10,000+ bookings from individuals, Institutions, Delivery agencies and even governmental bodies".
PURE EV has been expanding its product portfolio which are available via their 130+ exclusive dealerships across Pan India. The company plans to further expand its footprint across 300 cities by the end of 2023.