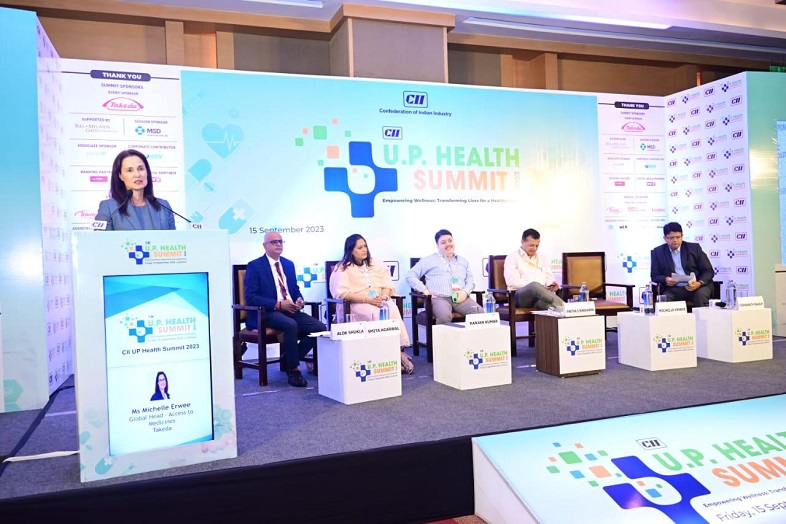 Mumbai/Bangalore, September 2023: Takeda Biopharmaceuticals India Private Limited (formerly Baxalta Bioscience India Pvt Ltd) – a global values-based, R&D-driven biopharmaceutical leader in innovative healthcare solutions presented an industry perspective on equitable access to healthcare during the 5th edition of the Confederation of Indian Industry (CII) UP Health Summit "Empowering Wellness: Transforming Lives for a Healthy Future". The summit serves as a crucial platform for bringing together policymakers, industry leaders, and experts to deliberate on pressing healthcare challenges and opportunities.
In her keynote address, Michelle Erwee, Global Head of Access to Medicines, Takeda said, "At Takeda, we are committed to accelerating global, equitable access to our medicines and vaccines. Whilst we know every individual, country, and community often face their own unique barriers to access, availability of medicines, capacity within local healthcare systems, and affordability are common challenges that require a collaborative and innovative approach. We acknowledge that the Government of India continues to prioritise initiatives aimed at enhancing the accessibility and equity of health services, and we remain open to collaboration in order to advance access to medicines for patients in need."

Ruchi Sogarwal, Head of Corporate Affairs, Takeda India added, "The Government of India has implemented value-based healthcare measures through large-scale initiatives such as Pradhan Mantri Jan Aarogya Yojana and Ayushman Bharat Digital Mission to improve and scale the delivery of healthcare services to all. Specifically in Uttar Pradesh – the most popular state of the country – the government is taking transformative measures to advance healthcare infrastructure and eliminate barriers to care across patient pathways. We believe India's G20 Presidency will give a fillip to its initiatives to boost healthcare access while the success of our government schemes could inspire other nations across the globe to emulate this model."
Takeda's representation at the CII UP Health Summit resonates with its commitment to catalyzing positive change in the healthcare landscape. Through collaborative efforts and innovative solutions, Takeda India aims to continue driving progress and access to quality healthcare, in line with its purpose of Better Health and a Brighter Future for people around the world.