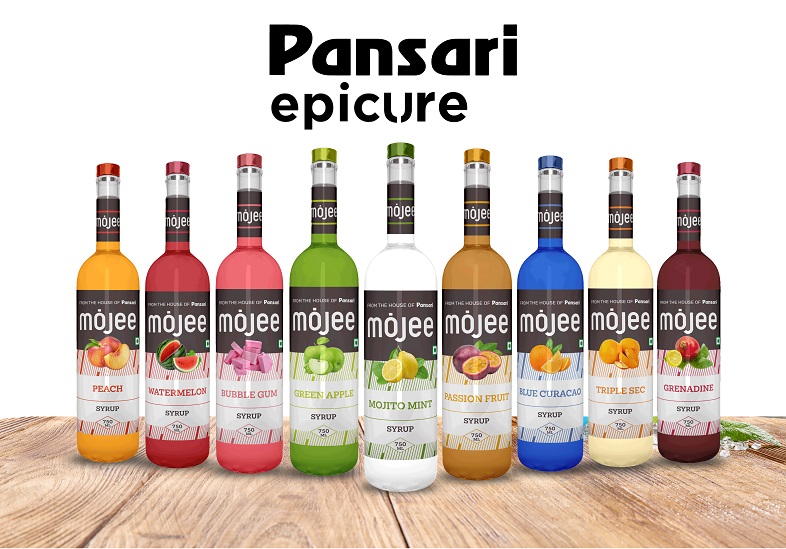 Pansari group, the leading FMCG brand, has launched its latest range of Syrups named "Mojee" at Asia's biggest International Food and Hospitality fair "AAHAR-2023". The syrup will be available in 9 different flavors, including Mojito Mint, Bubblegum, Passion fruit, Blue Curacao, Green Apple, Grenadine, Peach, Watermelon, and Triple Sec. In addition, the brand has also showcased its complete range of Pansari Epicure B2B products, which includes Chefys, Shahsha Masala, fortified basmati, and cold-pressed oils.
At "AAHAR 2023", the leading B2B food and hospitality businesses in Asia are presenting their top offerings, and among these top brands, Pansari is presenting their Epicure product line at Hall no-5, Stall no- 5G- 03. Pansari has recently expanded its footprint in the western and southern markets and over the past few years, the brand has been known for expanding its product line and continues to keep up with ongoing FMCG trends. The new addition to the syrup range in its Epicure segment is surely going to put the brand on the fast lane.
The 37th edition of the fair is predicted to draw a larger crowd this year than in previous years, due to the post-pandemic rules. AAHAR's 5-day expo is witnessing the gathering of the best B2B brands in one place, presenting the best of the products they are serving in the market.
Commenting on participating in the AAHAR International Food and Hospitality Fair, Mr. Shammi Agarwal, Director, of Pansari Group said, "Participating in these events is always thrilling since it allows us to meet professionals in person who use our goods. As the most renowned expo in Asia for the food and hospitality industry, it has grown into a great attraction for both international exhibitors and sourcing specialists. This year, we introduced Pansari Epicure services to our B2B customers in the hospitality sector, and we hope that at AAHAR, our team will display to the global vendors how simple it is to source wholesale HORECA products from the Pansari Group. We are also very hopeful that the new Mojee syrup will be liked by the professionals in the HoReCa Industry and it will also be counted as our star product soon. As for the other B2B products like Fortified Basmati Rice, Cold Pressed Oils, Pure Shasha Spices, Chefys, and gravies, we are sure that our products will surpass last year's sales numbers.
The International Food and Hospitality fair is in its 37th edition. The event will go on till March 18, 2023, at the iconic venue of Pragati Maidan (New Delhi). AAHAR is one of Asia's Food & Hospitality shows and has grown by leaps & bounds in recent years.